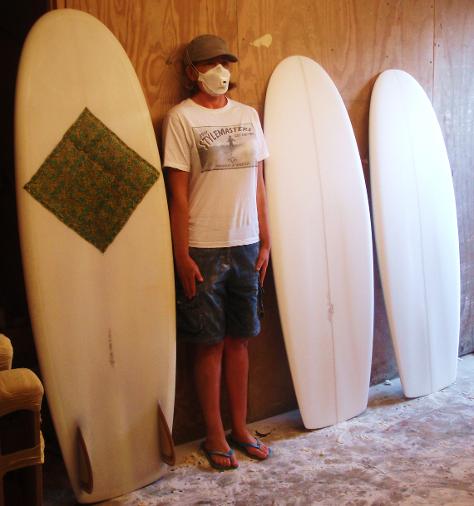 THE STORY SO FAR
Miller surfboards started out like many board building adventures…in a garage, just me, and few handtools, some off beat racks, and a tarp nailed up front to keep the elements out. I started building boards because I couldn't find what I really wanted to ride, to explore my interest in board design, and to fulfil the need for a creative outlet that at that time of my life, was only being fuelled by riding waves. My first board was a success, and i was utterly hooked on the experience of board making, from beginning to end.
After my first handful of boards i got asked to build a board for a friend, then another friend, then a friend of friend, then friends of friends of friends of friends, and so on it went. The pressure of the first handful of customs was overwhelming. But at the same time I enjoyed the buzz from pushing myself into achieving more with each one I made, and i discovered that the pure stoke I got from getting back the positive ride reports, was a totally new high.
Building boards filled the void left by flat or stormy seas, and still does. When everyone else is pulling their hair out, counting days til the waves are back, im riding wave after wave inside my head from the serene blue comfort of my shaping bay .......imagining a new board into existence is always a pleasure.
I revel in creating and designing just as much as building the board itself. My design process comes about through a blend of visualisation, and observation. Design is as vast as it is complex, every attribute must be given careful consideration. I shape by visualising how i want the board to feel in every aspect, then carefully blend together the design components that i feel will achieve that same feel for the rider, From the first sketches through to the finished board, each element has its place.
It was never my intention to become a 'professional' board maker, things just grew naturally over time, and I'm proud to say now that Miller Surfboards is gaining the reputation i've strived for. A reputation for high quality, traditionally constructed surfboards, thoughtfully designed and carefully shaped, built with the best quality materials, with utmost care and attention to detail, and a truly personal, custom service. Which also, most importantly, are a total blast to ride!
Although I build boards for people all over europe now, its all achieved through word of mouth. In a way , I like to think it hasn't really changed since the beginning; just friends of friends of friends of friends……
If like me you are seeking something less defined by convention, greater connection to what you ride, and an overall richer experience than what you have experienced elsewhere , then you know where to find me....
....Ellie Miller